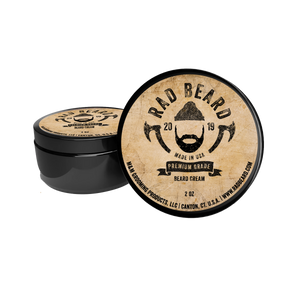 Customer Reviews
04/18/2020
Gerard L.

United States
Beard cream
Been in the hair business for over 30 years I use this beard cream myself and have made so many recommendations to all my clients. Great products! Highly recommend to try them all!
04/17/2020
Joe

United States
Groovy Balm
I always get compliments when wearing the Groovy Beard Balm. I've tried that one and the Cigar Shop and they're both amazing. Just ran out grabbing two more!!
06/09/2020
Rad Beard Club
05/24/2022
Vernon C.

United States
Beard Cream
OK. Pretty lotion like consistency. Not sure of purpose but if it is to be used in lieu of balm, I'll take the balm.
02/04/2023
Rad Beard Club
Great comment! Beard Cream is intended as a conditioner with a slight hold whereas balm includes some beeswax to hold down those hard-to-tame stragglers. More on the differences here: https://www.radbeard.com/blogs/rad-blog/the-newbie-question-should-i-be-using-beard-products